Post by James on Jan 28, 2014 17:35:42 GMT -5
To follow your article :
www.french-cars-in-america.com/2014/01/the-last-citro%C3%8Bn-sold-in-the-usa-canada.html
Although Citroën pulled out of the North American market in the mid seventies, their products continued to be available to the cognoscenti, thanks to CxAuto, a Dutch outfit who remanufactured Citroëns to ensure that they comply with US Federal rules.
Citroën were not happy with CxAuto and insisted that the Citroën name and double chevron logo be removed from the cars. Despite Citroën's hostility, CxAuto has kept the marque's name and reputation alive in the USA and Canada.
This is CxAuto's 1988 brochure for the CX GTi, CX Prestige and CX Estate Wagon.
We invite you to discover the CX, the most extraordinary automobile in the world.
CX, the automobile which has established entirely new standards of luxury, performance and reliability, is now available here in America for the individual who wants the very best automobile there is.
Once you learn about the CX...once you drive it, once you experience it, your concept of what an automobile should be will change forever.
In terms of styling, driving, passenger comfort, safety and technological innovation. in almost every characteristic by which great automobiles are judged, the CX is truly new. It redefines the concept of automotive performance....and will lead you into the 21st century. Magnificently.
The distinguished heritage of Citroën.
The CX comes from the production lines of Citroën, acknowledged leader in automotive technology, and enjoys a heritage that is virtually unmatched in the industry.
Established in the early part of the century, Citroën is one of the world's major automobile manufacturers, and is held in universal esteem for its extensive list of significant automotive innovations.
Among these historic milestones are: front wheel drive (1934), unibody construction (1934), rack and pinion steering (1936), hydraulic suspension (1954) and true power disc brakes (1955).
The influence of Citroën's advanced engineering and design is apparent throughout the automotive world. What Citroën has introduced as "revolutionary" or "unique" has become the accepted norm 20 years later. More important than these individual triumphs, however, is the fact that today's CX represents an amalgam of this technology, refined to a level unmatched by its imitators.
At the CxAuto factory in Oisterwijk, Holland,the CX is finished to the highest quality standards by dedicated personnel of CX Automobiles, BV, who hold steadfast to the traditions of "custom-quality" production. Work on every vehicle starts with a 12-manhour quality inspection procedure. One key to such quality is the dedication of CX technicians. Just as important, however is their system of process control" the maintenance of production quality to avoid all defects. (An idea slowly being accepted by an industry still worried about fixing defects after they occur.) This approach to quality control is taken in every area of CX production: electrical systems, frame components, fuel systems, exhaust components, and finishing details.
At the final stage of production, each completed vehicle is run through a half-day quality assurance program that includes test-track performance checks. Each vehicle's history is maintained on production/quality logs. And each CX is delivered to the dealer in perfect condition.
So reliable is the CX, that every car is covered by a comprehensive 5-year/50,000 mile warranty and a 5-year corrosion warranty.
The unity of technology and art.
As should be expected of any modern, high performance luxury sedan, the CX embodies such features as front wheel drive, fully independent suspension, ventilated anti-lock disc brakes, variable power steering, monocoque unit body construction, and more.
The superiority of the CX, however; results not from any one single feature, but from its total concept. It is a result of technology designed to attain the highest standards of driving performance, comfort and safety This has meant discarding many traditions and popular gimmicks, and designing, instead, an automobile replete with genuinely creative engineering ideas and innovative solutions.
For example, the CX has a hydropneumatic suspension system that provides a level of riding comfort and security impossible to achieve with steel springs. It has the longest wheelbase of any standard production car in the world, thereby providing interior space unavailable in any other standard size sedan. Its ergonomic design provides the driver with finger touch response and promotes a degree of driving enjoyment, safety and security never before attained.
Even the name "CX" reflects a specific aspect of its superiority. "Cx" is the notation used by engineers to denote the coefficient of drag; a measure of aerodynamic streamlining. (When the first streamlined CX design came out of the wind tunnel in 1975, the rest of the automotive world had barely begun to think about it.) It is, therefore, a name befitting the automobile which, along with its predecessors from Citroën, pioneered the concept of aerodynamic efficiency.
Equally important, the CX demonstrates convincingly that aerodynamic streamlining can produce a beautifully sculptured, flowing shape.
Modern design, however, requires more than low frontal drag. As important are low cross wind effects, efficient weight distribution for low center of gravity, minimum overhang beyond wheels, efficient internal volume, structural rigidity, passenger safety and reliability
The CX meets each of these criteria brilliantly It is a car whose design is truly timeless.
Power and performance.
In keeping with the performance potential of its body and suspen-sion design, the CX has been fitted with an engine that makes it one of the fastest sedans in the world. The inter-cooled turbo version, with 185 horsepower; can exceed 140 mph and accelerates 0 to 60 mph in less than 7.4 seconds. Even the naturally aspirated 2.5 liter engine delivers impressive low rpm torque.
As a result, the CX is capable of unusually rapid acceleration and is more flexible and enjoyable to drive than any other car of its size.
Most notable in this transversely mounted engine is its ruggedness. Its crankshaft, bearings, rods, crankcase and other components have been derived from a diesel counterpart, and are more robust than those used in most gasoline engines.
Bosch L-jetronic fuel injection and fully electronic ignition further enhance the performance and reli-ability of the CX engine. With mod-est care, it will last you well into the 21st century.
All CX naturally aspirated models are available with the highly regarded ZE automatic transmission which is noted for reliability smoothness and efficiency. For the performance-minded driver; a 5-speed manual gearbox is also available. This transmission is silky smooth, with precise feel, and, because of the available low-end torque, offers tremendous flexibility.
Luxury interiors.
The interiorof the CX Prestige places this performance vehicle in the ultimate luxury class. All CX models are equipped with the following as standard appointments: plush carpeting and foot rests, sun visors at each window, reading and map lights, custom high fidelity sound systems, climate control, delay switches for interior lighting convenience, keyless (infrared) locks, automatic defrost controls, and more.
The CX Prestige, with large rear door access of 39", allows passengers full forward leg extension for maximum comfort. Standard on this model are the fine leathers which cover the entire seating area and door panels, a sun roof with tilt action, and cruise control.
The uniquely modern features of the CX Prestige are most apparent when seated behind the steering wheel.
Seats are a perfect combination of softness and support, and provide a high level of comfort while greatly reducing fatigue. Outward visibility provides a panoramic view without obstruction and great "immediacy" to the road in front.
A single-spoke steering wheel allows total viewing of instrumentation regardless of its position, and its collapsibility in event of impact can help assure driver safety.
In the event of a frontal collision, the passenger compartment is protected by a structure that absorbs energy at optimal rates. Indeed, every aspect of the CX Prestige has been designed to meet the strictest safety standards.
Full analog instrumentation and warning systems provide quick and clear descriptions of the vehicle's operating condition.
All critical controls of the Prestige lighting, horn, wipers lie at your fingertips. Everything, including the steering, is activated at the touch of a finger. The varipower rack and pinion steering system of the CX provides a combination of driving ease and steering precision never before achieved. At the same time, a pressure-sensitive brake pedal produces enormous braking power. Besides minimizing driving effort, this significantly reduces critical braking response time in case of emergency.
CX Estate Wagon
The unusual beauty of the CX Estate Wagon is only part of its great appeal. There is much more to it than meets the eye. It drives over snow, for example, where other wagons cannot. As a cargo carrier its 1500 lb. capacity and 8-foot flat bed make it incredibly versatile. (The Family Estate carries eight passengers, in limousine-like seating, along with their luggage.) And no matter how you use it, the CX Estate Wagon will behave like a luxury, high performance sedan.
Hydropneumatic suspension assures constant road clearance and a smooth ride regardless Of the load. Front wheel drive provides stability, sure-footed road adhesion and a spacious cargo area. And the engine and brakes have power reserves to meet almost any unusual driving condition.
Its interior is in keeping with the luxury of other CX models, with fine velours (or leathers) on the seats, plush carpeting, a high fidelity sound system, climate control and much, much more.
Hydropneumatic suspension.
One of the most remarkable design features of the CX is its central hydropneumatic system (combination gas and hydraulic fluid) for suspension, steering and braking.
Steel springs, used in other auto suspensions today, date back to the horse and buggy, and move with a limited fixed velocity While this may have been satisfactory for the buggy, a high speed car traveling on a rough road may have its wheels more off the ground than on it. Through use of hydropneumatics, the CX resolves this prob-lem by utilizing a sphere of compressed inert nitrogen gas at each wheel for its suspension, allowing the wheels of the CX to remain totally compliant with the road's surface. This is because the compressed gas has more flexibility than steel, and allows the wheels to react more quickly to the road surface.
The result is that for sheer smoothness of ride and road-holding ability, no other auto compares. It literally floats on air! In addition, the hydropneumatic system of the CX provides for constant ground clearance regardless of the load, adjustable driving height to clear obstructions, automatic jacking for easier tire changing, and far greater durability.
www.citroenet.org.uk/foreign/usa/88-01.html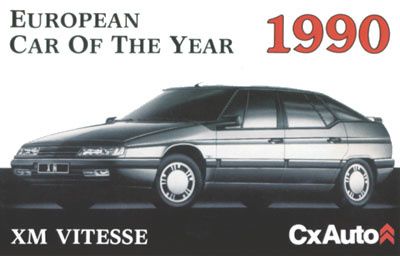 And the XM :
Although Citroën pulled out of the North American market in the mid seventies, their products continued to be available to the cognoscenti, thanks to CxAuto, a Dutch outfit who remanufactured Citroëns to ensure that they comply with US Federal rules.
Once their stock of CXs was exhausted, CxAuto started importing XMs and showed the XM at the 1991 New York Motor Show. CxAuto imported two versions - the XM Pallas fitted with the 2 litre injection engine and the XM Vitesse fitted with the 3 litre V6.
in 1993, the XM Exclusive was added to the range.
With a price in excess of $50,000, not many were sold.
New US anti-pollution standards meant the import of these cars ceased in 1997.
The Philadelphia Inquirer November 13, 1992
Citroen's a French import with a look and style all its own
Only 70 XMs will be sold in the US this year. No wonder. Each one costs about $50,000.
By Al Haas
INQUIRER AUTOMOTIVE WRITER
Renault left the U.S. marketplace in the late '80s, then Peugeot pulled out in the early '90s. For the forsaken lovers of imported French transit, Francophilia was fast becoming necrophilia.
But all is not lost, at least not for America's more affluent Francophiles. If you have enough francs, and a yen for something unforgettably French and ridiculously rare, then Citroen has a set of Wheels for you.
It is called the Citroen XM.
Fifty thousand dollars will buy this Cjtroen XM, shown on Logan Circle with City Hall in the background.
No aerodynamic egg, this, with a pointed snout that slashes through the air.
Photo © The Philadelphia Inquirer / GERALD S. WILLIAMS
The XM is a luxurious, $50,000 European road car that is quite mainstream by Citroen's standards - and fairly esoteric by ours. It also is an automobile that comes with an unwritten guarantee that it will not be confused with someone else's when you pull into the country club parking lot. According to John Stout, the car's West Chester dealer and national distributor, only about 70 of these distinctive denizens will be sold in the United States this model year.
The exclusivity has to do with demand and the rather limited conversion capabilities of CXA, the Middlesex, N.J., company that imports the Citroens and then modifies them to meet U.S. requirements. The changes include the substitution of a BMW catalytic converter and the installation of Pontiac headlights, a third taillight, a set of door-mounted automatic seat belts and side-impact beams in the doors.
While it is just making its debut here in the colonies, the front-drive XM is not really a new car. It is a version of a midsize, five-door Citroen sedan and four-door wagon that have been on the European market since 1990.
What makes the XM so unusual, apart from its import numbers, are its styling and suspension. Unlike its predecessor, the XM doesn't look like the Car from Mars. Rather, it qualifies as handsome, highly original business.
It manages to be arresting and aerodynamic while assiduously avoiding that most ubiquitous of contemporary cliches, the aerodynamic egg. I found my eye particularly drawn to that projectile front end which looks like it is knifing through the wind even when is standing at the curb.
The car's interior is roomy, comfortable and sufficiently sumptuous, thanks to .a generous use of leather and exotic wood trim. Its only aesthetic downside is the dashboard which has that clunky, other-generational angularity found in some Volvos.
The XM has operational touches that caught this driver a little off guard. The steering wheel is a rather strange, one-spoke affair that returns to center with such enthusiasm that it can yank you a bit off course if you let it. The foot-operated parking brake has to be locked in place by the dash control that also releases it.
The stereo controls are secreted behind a lift-up wood panel. The fuel gauge is graduated in liters. There is a second rear window inside the regular one that keeps the cool or warm air inside the car when you open the rear hatch.
If this sort of thing isn't offbeat enough to meet your exotica quota, you can always order the car with the voice-controlled stereo and telephone. This $3,000 option will dial the radio station and the telephone number you ask for and play the compact disc you mention.
From a technical standpoint, the XM's most offbeat feature is its hydropneumatic suspension. The XM doesn't have springs and shock absorbers like other cars. Its ride is controlled by spheres of nitrogen gas and a related hydraulic system.
The computer-controlled hydraulic system adjusts the stiffness of the ride and the degree of shock absorption by varying the pressure it exerts on the gas in the spheres. By selecting the automatic suspension setting, you let the computer adjust the ride and shock absorption to driving conditions. Selecting the ''sport suspension'' keeps things firm all the time. The unique suspension system also allows you to adjust the car's ride height.
The XM rides and handles well, 'although with a tad more wind and tire noise than you might expect from a luxury car. Acceleration, courtesy of a three-liter V-6 that develops close to 200 horsepower, is brisk but not blinding. The acceleration times - zero to 60 m.p.h. in 9.4 seconds - improve a bit if you substitute the optional five-speed manual gearbox for the standard four-speed automatic.
Citroen XM
Base vehicle: 3-liter engine, four-speed automatic transaxle, speed-sensitive power steering, disc brakes, anti-lock braking system, 15-inch alloy wheels, P205/60VR 15 performance tires, power windows, heated power outside mirrors, power front seats, tilt/telescoping steering, leather seats and door panels, wood trim, stereo/cassette, air conditioning, keyless entry, security system, front and rear foglamps.
Test Model: sunroof, upgraded sound system.
Base price: $49,990
Test model: $55,140 (inc. shipping and $1,700 gas-guzzler tax)
EPA city rating: 15 .
Warranty: one year/12,000 miles bumper to bumper, three years/50,000 miles on major mechanical and electrical components, roadside assistance.
www.citroenet.org.uk/foreign/usa/90-01.html